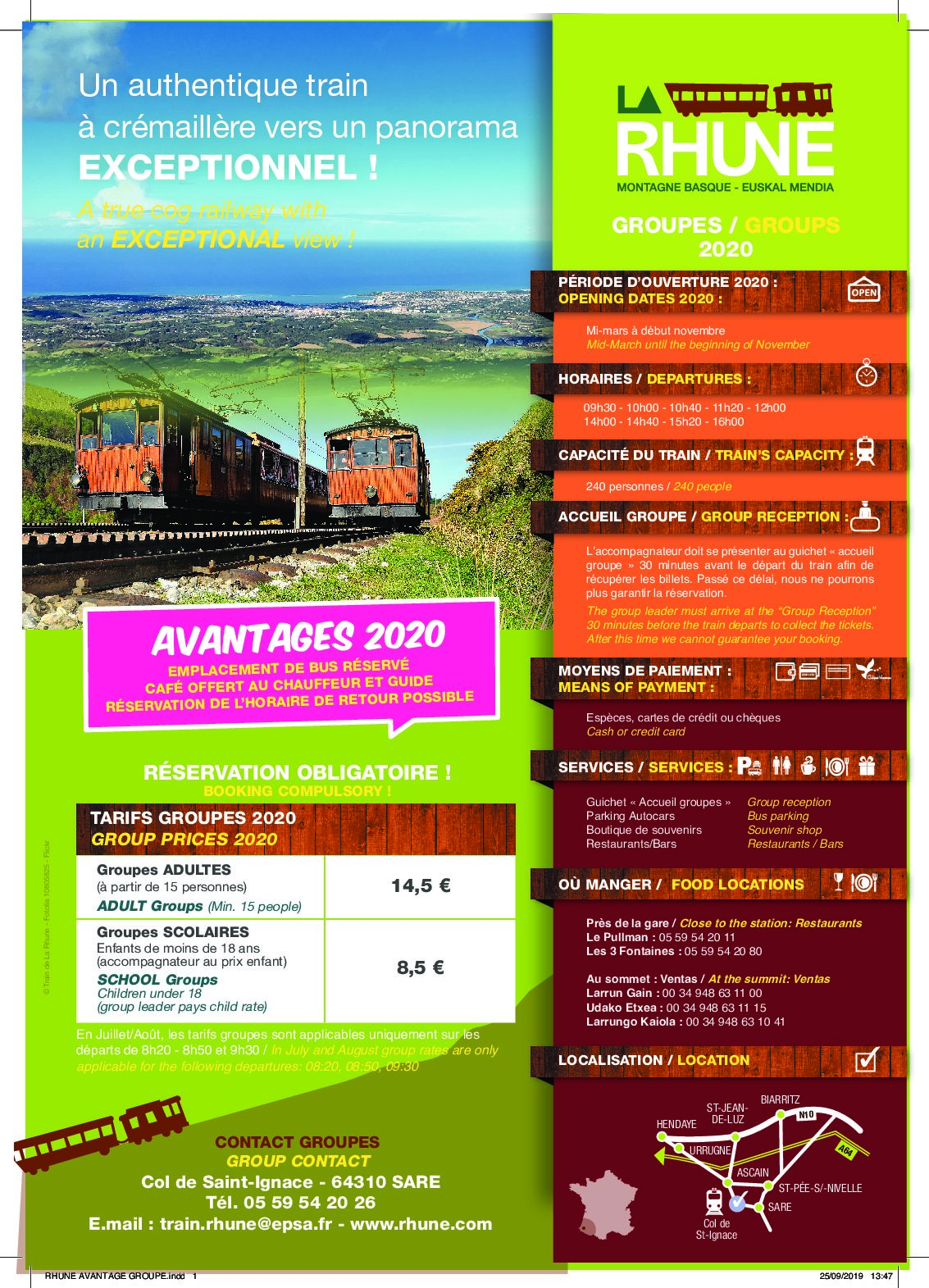 Reservations for groups (15 or more people) are compulsory until the day before your visit. The reservation must be made – by email: train.rhune@epsa.fr
Price: consult the brochure
Departure station: The group must be at the ticket office 30 minutes before the departure of the train. After this time, we cannot guarantee your departure.
At the top: return times are free (except during high season).
Reservation of your return:
Please indicate the desired schedule when booking)
The guide can reserve the places for the return journey. For this, he must, when arriving at the summit, report to the station manager to reserve the desired return time.
The guide must then present himself with his entire group, 10 minutes before the return time indicated to him.
If they do not wish to book their return, the group and their guide will present themselves at the departure station with the individuals.
WARNING !
Between July 6 and August 30, 2020, group rates apply ONLY on the following departures: 8:30 a.m., 8:50 a.m. and 9:30 a.m.
On other departures, reservations are possible but the individual rate will be applied.

Opening period :
From 26 to 29/03
Every day from 1/04 to 1/11/2020.
Visit conditions
Minimum duration of visit: 2 hours (35 minutes each way and minimum 40 minutes at the top).
Possibility to eat at the bottom and top stations (Ventas).
Altitude at the summit: 905 m. Beware of temperature variations.
Train capacity: 120 or 240 people.
The sales team is at your disposal:
Phone: +33 (0) 5 59 47 51 16
Mail :
Download files:
> Download the La Rhune's Groups brochure
> Package Train + Basque house Ortillopitz "Tell me your heritage"
> Package Train + Sare Caves "Discover our natural gems"